Research and Develpment
Engineering to push the boundaries of innovation
A technical department structured to transform ideas and designs into machines
Gerotto has been a manufacturer of no-man entry robotic technologies for working in confined and hazardous spaces since the early 2000s: a niche sector that poses enormous design challenges in terms of safety and productivity.
The compliance with international standards (Atex directive in primis) and the specific operational requirements of machine use become a stimulus to find novel and pioneering solutions.
The in-house department consists of engineers, technicians and designers
Gerotto Federico S.r.l.'s technological solutions are entirely designed and manufactured by the company's in-house Research & Development team, which is always attentive to customer needs.
The Garage
The expertise of specialised mechanics to take care of every detail
Finished products totally made in Italy. Specialised workers and technicians take care of construction, machining and metal carpentry with the passion and skill of a craftsman's workshop and the equipment of the most modern industrial plant. All-Italian skill, innovation and ingenuity have led Gerotto's Mini Excavator robots to be considered the Vacuum technology aid par excellence, as they amplify the concept of safety to the highest terms.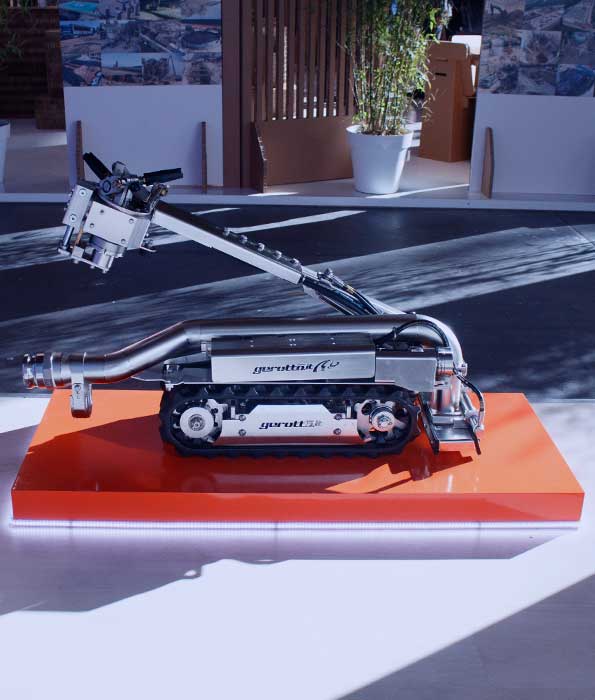 Gerotto Robotics
The vanguard for robotic tank & industrial cleaning
Products are manufactured using the expertise and experience of its professionals combined with monitoring the latest innovations on the market.
Based on customer requirements, the technical department studies tailor-made solutions, creates detailed designs, identifies the most advanced technologies and the most appropriate components to realise them.
Subscribe to the newsletter to stay updated on the latest news