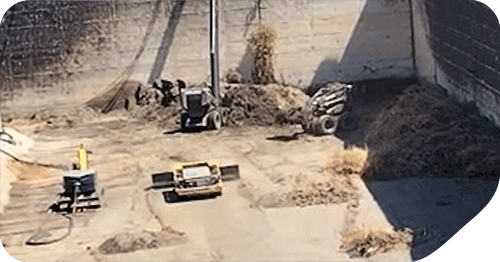 Gruppo Veritas chose to innovate cleaning procedures by contracting the service to Gerotto, which used robots and suction excavators to remove 2,000 cubic meters of material.
Highlights:
2000 m³ removed.
Reduction in waste volume.
Operator safety thanks to radio-controlled robots.
Reduced emissions thanks to electric motors.
Purification tanks: a crucial node in the wastewater treatment process.
The maintenance of tanks is an essential operation to ensure the effectiveness and optimization of purification processes. In this specific case, Gruppo Veritas, as part of a revamping project to upgrade the plant, needed to completely clean the tanks to install a new biological oxidation system. In the case of the Fusina plant, on the outskirts of Venice, the challenge was to remove materials within 2 large tanks. These areas, although very large, are classified as confined spaces and therefore subject to relevant regulations that require access by highly skilled operators and related PPE and recovery systems.
The solution: robots and suction excavators.
Gruppo Veritas opted for a more sustainable and innovative alternative, choosing to rely on Gerotto Solutions, the business unit of the Gerotto company specializing in industrial cleaning and remediation services. Gerotto is a well-established company on the Italian scene that introduced suction excavators to Italy and has become a manufacturer of radio-controlled robots specifically for vacuuming materials inside confined and explosion-hazardous (ATEX) spaces. Gerotto's proposed solution was a combination of remotely controlled robots attached to a suction excavator. Specifically, robotic dozers and a Gatto RC robot were used, a particular model produced by Gerotto powered by an electric motor and equipped with a front bucket capable of carrying material to the suction hose located in between the two tracks and connected directly to the suction excavator. Thanks to the powerful turbines of this technology, it was possible to remove both solid and slushy material
The benefits: 2000 m³ removed in complete safety.
Thanks to the combined action of Robot and suction excavator, it was possible to remove 2000 square meters of material and completely cleaning the tanks. The power of the suction excavator made it possible to vacuum the material as is without the addition of water, thus reducing waste volumes and water consumption. In addition, the use of electric motors reduced atmospheric emissions, while the ability to control the robots remotely increased safety for the operators.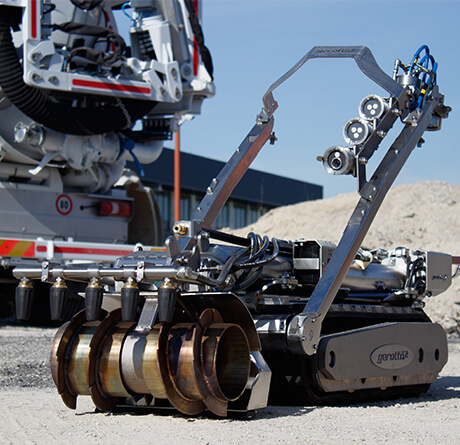 Best solutions for industrial maintenance, cleaning of storage tanks, pipelines, confined spaces, Atex zones and underwater environments.
Subscribe to the newsletter to stay updated on the latest news